🔰 Grab the chance now! Are you ready to be the FIRST, BEST, or DIFFERENT version of yourself? 
Let's launch your career as a Talent with CJ Foods!
🌟 Domestic Sales - MT
🌟 Export Sales
🌟 Marketing
🌟 Procurement
🌟 Management Accounting
🌟 Research & Development
🌟 Production
🌟 Human Resources
🎉 WHAT AWAITS YOU IN THIS PROGRAM?
🎯 Fast-track your career with 06 months of opportunities for development equipped with strong Business acumen and functional competencies from Fresher to higher level.
🎯 Gain the opportunity to directly embark on key projects under the guidance of experienced professionals to discover yourself, upgrade your skills, and make a real lasting difference.
🎯 Gain "On-the-job training" and first-hand mentorship from Senior Leaders during your journey at CJ Foods.
🎯 Have insight into "real" products and their production process at our most high-class factory.
🎯 Competitive and attractive benefits.
🎉 BECOME A TALENT PIECE AT CJ FOODS AFTER ONLY 3 ROUNDS:
👉 Round 1: Application - Grab your chance here https://tinyurl.com/CJF-YTP2022 by 23:59, June 23, 2022
👉 Round 2: HR Initial Interview
👉 Round 3: Final Interview with Line Managers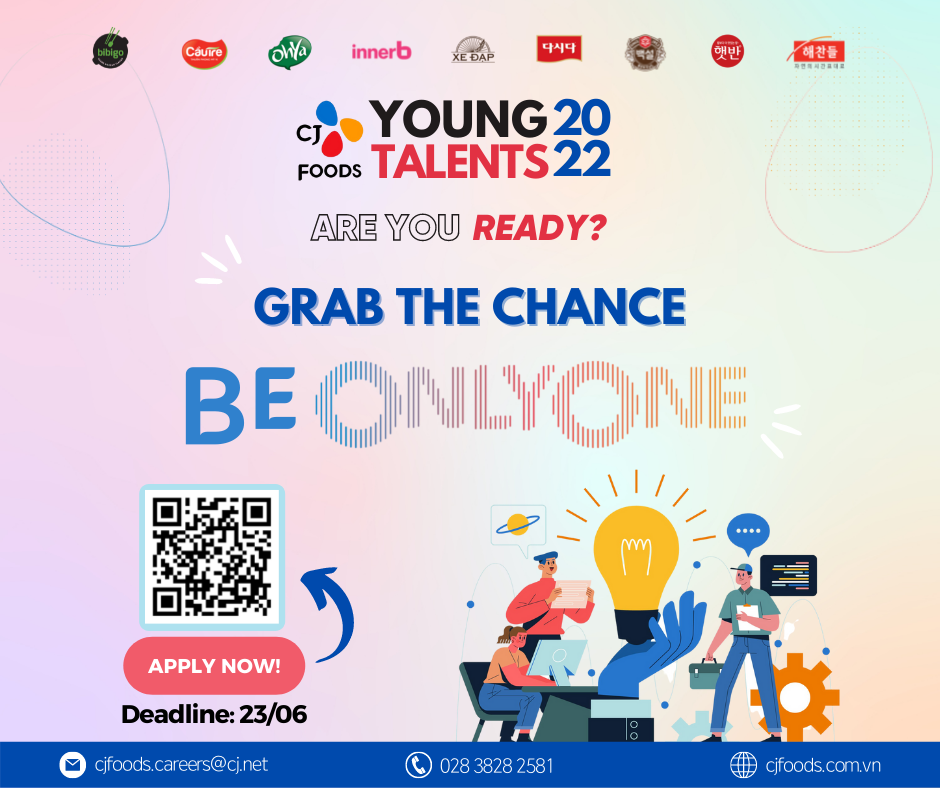 🎉 GRAB THE CHANCE, IF YOU ARE: 
📍 University graduate with less than 01 year of working experience
📍 GPA from 7.0/10 or equivalent
📍 Full-time employment from 6 months
📍 Strong analytical skills, critical thinking
📍 Driven with a growth spirit; a creative problem solver; highly collaborative and "can-do" attitude
📍 Proficiency in English. Korean intermediate is an advantage.
🎉 CJ Foods Young Talents Program 2022 is a solid career foundation for you to maximize your fullest potential by striving to be the best, the first, and the most differentiated at one of the Leading Food Companies.
What are you waiting for? 
👉 GRAB YOUR CHANCE HERE: https://tinyurl.com/CJF-YTP2022
More about us: http://cjfoods.com.vn/
#CJFoodsVietnam #LiveNewCJ #CJFoodsYoungTalentsProgram #CJFYTP2022 #GrabtheChance #BeOnlyOne